Contract development and manufacturing
Our services include formula development, pilot studies in the laboratory and on automatic production lines, bulk product preparation, filling and packaging of pharmaceutical products, medical devices, cosmetics, products for veterinary and diagnostic use. In our capacity as production experts, we assist clients and manufacture their products in our three current plants.
Our full-service solutions
Do you need to have a product manufactured from start to finish? If you have a product in mind but you are starting from scratch: we listen to your needs and respond with a finished product, ready for distribution.
Our tailor-made solutions
Do you need to have a product manufactured based on the formula you have provided? If you already have a formula, you can entrust it to us and we produce and package the product in the quantities required.
Our co-manufacturing solutions
You have ideas and want to be involved in preparing your product? If you have and idea and wish to turn it into a fully-developed product, working closely with us at every stage, right from the word go.
Our turnkey solutions
Do you want to adopt a private label product ready for distribution? You simply choose from those available in our catalogue and we produce them, personalising the packaging as per your request.
Go to the private label catalogue
Liquid solutions, suspension, gel, cream, lyophilisates and ointments
We are a Pharmaceutical contract development and manufacturing company authorised for the preparation of medicinal products and medical devices in liquid, suspension, gel and cream form, lyophilisates and ointments.
Clients with proprietary rights to a formula can count on us for the manufacturing of the finished product and the following filling, starting from preliminary evaluations of the production method through to monitoring of safety, stability studies and, finally, large-scale industrial manufacturing.
We deal with the research, development, technology transfer and industrialisation of medicinal products in liquid form, suspension, ointments and lyophilisates and their production.
During the medical device development stage, we evaluate every single product characteristic and adjust the formula as needed to ensure feasibility, replicability and efficacy. Pilot batches allow us to verify product stability and safety, which we also confirm through a number of specific tests and analyses, essential for the drafting of technical dossiers.
For medical devices and cosmetics we can also provide contract filling services alone. We also deal with chemical and microbiological analyses pre- and post-filling.
We have the capacity to fill a wide range of single-dose and multi-dose containers as well as plastic, polyfoil and aluminium tubes; in addition, we offer innovative packaging that eliminates the need for preservatives.
We avail of lines for filling sterile products (medicinal products, medical devices for ophthalmic use and inhalation, nasal or ear washes) and non-sterile products (medical devices for oral use, solutions for external use, diagnostic products, veterinary products, cosmetics and products for personal care and hygiene).
The development of each new project requires dedicated attention: our experience, competences and technologies enable us to design the optimal process around the client, offering total customisation. 
Indeed, if a project entails filling a non-standard container, we can rapidly make any necessary adjustments to our production lines to factor in this requirement.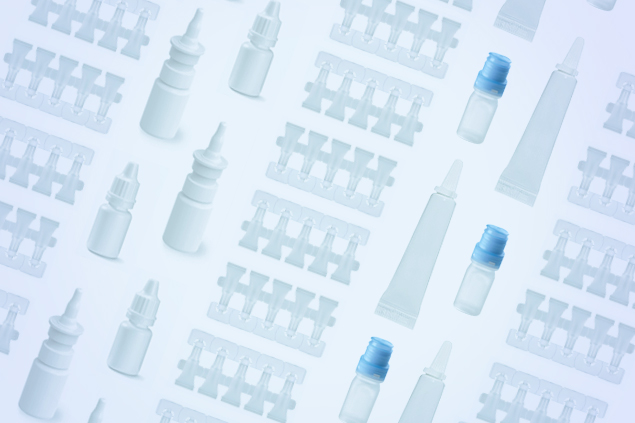 Single-dose, multi-dose, bottles and other formats
We propose various types of primary containers: