Research-oriented, from the outset
We have been operating in the ophthalmic field for over 80 years. Established as a pharmaceutical company dedicated to the development, manufacturing and distribution of our own pharmaceuticals, 20 years ago we switched to contract development and manufacturing, sharing our know-how acquired over the years through a full service of contract development & manufacturing of pharmaceuticals and medical devices for ophthalmic use.
Applying GMP standards, we develop products in accordance with specific client requirements.
What sets us apart is our comprehensive service, thanks to core competences within the company, our laboratories and our production lines.
We specialise in research and development in the ophthalmic field for multinationals, Italian as well as international pharmaceutical companies. For them, we develop, fine-tune and manufacture, in aseptic conditions, pharmaceuticals and sterile medical devices for topical use in different forms (solutions, suspensions, gels, ointments, emulsions and microemulsions) and in several dosage forms.
We apply QbD principles for:
Development of products with new formulations

Development of generic products

Reformulation of products

Line-extension products

Studies for updating of product dossiers
The research team includes numerous highly qualified and complementary professionals who cover all necessary areas of expertise. Our laboratories specialise in:
Formulation studies

Primary packaging studies

Development of analytical methods (chemical, physical, microbiological)

Validation of analytical methods

Preparation of lab batches for pharmaceutical technology and preclinical studies (in GLP)

Stability testing (stress tests and forced degradation, pre-stability, in-use stability, freeze-thaw, ICH)

Study of the manufacturing process

Pilot batches and engineering batches

Production process validation

Production of batches for clinical studies
The experience we have gained in the ophthalmic field in 80 years of business, coupled with our intense contract manufacturing activity over the past 20 years, have enabled us to acquire specific expertise in the production of pharmaceutical products and medical devices for ophthalmic use.
Each new production process is made to measure based on the formulation developed by our research and development laboratories. Following consolidated protocols, we then proceed to the manufacturing of pilot and validation batches.
The set-up of our production lines is the result of research carried out for the industrialisation of many products: 20 years of contract manufacturing have shaped the great flexibility we boast today and stabilised performance, making us highly competitive also for pharmaceutical products for the U.S. market.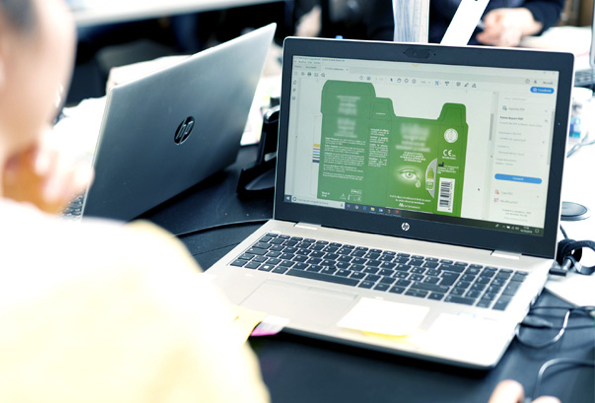 We are specialized in
private label
We offer customers a complete range of medical devices for nasal and eye care, ready for customisation with the graphics and brand of the distributor.